PRODUCT OFFERINGS
State-of-the-art technology from a global security industry leader
Easy to install, operate and maintain, the IP-AK2 requires no software installation. Simply connect a TCP/IP network cable from IP-AK2 control panel to a computer and use standard web browser (Internet Explorer, Firefox, etc( for reliable and remote access control. This 2-door controller is expandable up to 20 doors over an RS485 network. It supports up to 10,000 cardholders, and has a transaction storage capacity of up to 25,000 alarms and events. Built-in support for visualised door status viewing provides operators a complete picture of each device as well as easy, real-time manual control of locks and other devices.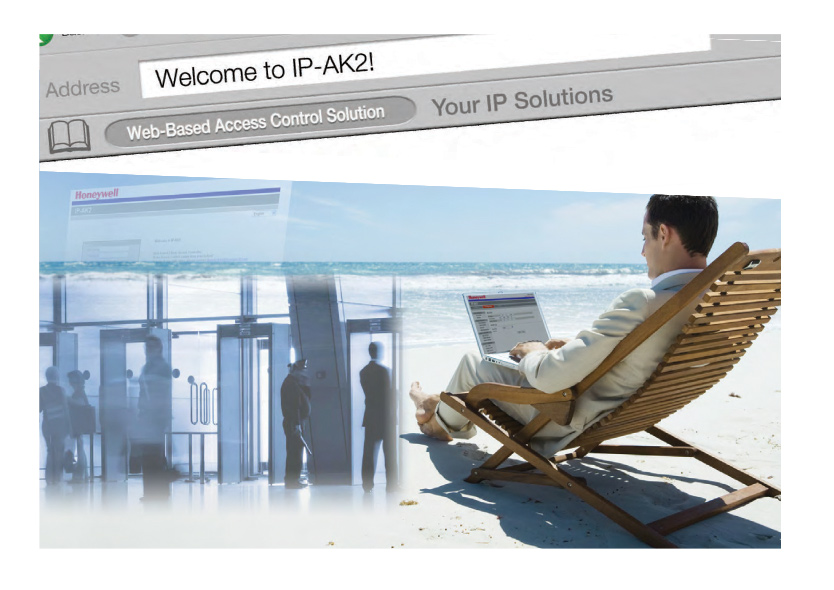 IP-AK2
Access Control Solution
The new generation Honeywell lP-AK2 is 2-door web-based access control panel designed to provide easy-to-use and cost-effective solution to meet the requirements of all entry-level applications. The system's built-in web server allows users to use a standard Web browser to manage, control, and monitor the access control system from anywhere an Internet connection is available. This brings users with simplicity, flexibility, and cost-effectiveness without sacrificing the performance of access control.
FEATURES
"Complete system configuration from Web Interface
Powerful 32-bit processor and built-in SOL Lite database for fast, reliable processing
Two-door interlock supported
Onboard I/0: 2 readers, 8 supervised inputs, 4 relay outputs
Flash programming for firmware revision updates
Database and configuration archiving support
Anti-passback capability, hard and soft
Real-time clock, live event and alarm monitoring
Card format compatibility: 128 types of Wiegand format support
Specifications
Ordering Info
Resources
Specifications
System Overview
2-doors controller, expandable up to 20 doors over RS485 network
Embedded Web server
32-bit ARM9 processor
Onboard 1/0: 2 readers; 8 supervised inputs; and 4 relay outputs
Flash programming for firmware revision updates
Anti-passback capability, hard and soft
Two-door interlock supported
Real time clock
System Capacities
Cardholders: 10,000
Transaction storage: 25,000 alarms and events
127 -nme Zones and 255 Holidays
128 Access Level
Card format compatibility: 128 typess
of Wiegand format support
Credential facility codes: 8
Database and Database Maintenance
Built-in SOL Lite Database
Manual backup of system database to local client PC
Alarm & Event database auto backup
Communication
Onboard Ethernet port connected to TCP/IP network as master panel
Onboard RS485 connection for downstream panels
Certification and Approvals
Web Brower
Standard web browser e.g. Internet Explore or Firefox
Complete system configuration from Web Interface
Live event and alarm monitoring
Visualized viewing of door status and real-time manual control of locks and other devices
Card report
Alarm & Event report
Detailed report generator
128-bit SSL browser login encryption
Up to 6 users to log in simultaneously
Language
Multi-languages supported
Currently available in English, Simplified Chinese, Traditional Chinese, and Korean
Dimensions
Boards: 152mm W x 229mm H
Enclosure: 340mm H X 290mm W X 78mm D
Power Requirements
Power Supply: 220VAC (11 0VAC) to 12 VDC transformer
Battery Backup: 12 VDC, 3.2 AHr sealed lead-acid battery
Environment
Temperature: 0°C to 50°C for operating, -55°C to +85°C for storage
Humidity: 5% to 85% RHNC
| Model No. | IP-AK2 |
| --- | --- |
| IP-AK2 | IP-AK2 Control Panel only |
| DMCH01186579 | Universal Cabinet for one PCB of IP-AK2 DOES NOT INCLUDE PSU |
| PSU-12RDC2-BCDUPS | Power Supply 12V DC , 2.5 Amp ( 1.5 A Load current , 1 A Battery Charging Current with UPS feature , only to be used each with DMCH01186579) |
Documentation
Size
Release Date
File Type
Download