PRODUCT OFFERINGS
Intelligent controller and reader interface in a single high-performing unit
The PRO3000 controller can support up to 62 doors via RS485 multi-drop communication, where 30 downstream controllers are connected to the gateway controller. This architecture reduces the usage on LANs by using only one TCP/IP address to 62 doors, and also allows for economic and scalable system installation. With tile mounting configuration, the PRO3000 accommodates a card database of 100,000 cards as well as a transaction buffer of 100,000 transactions. A true 32-bit microprocessor provides fast transaction processing even for demanding network applications.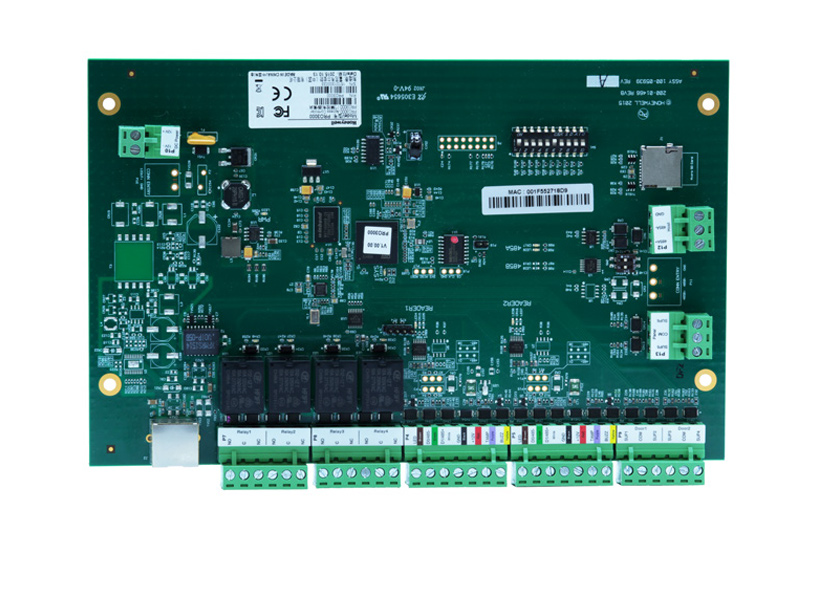 PRO3000
2-door Intelligent Controller for SMB
Honeywell's PRO3000 2-door intelligent controller is IP-enabled but also capable of operating offline. Providing power and flexibility, reliability and ease of use, this device is well-suited for the access control and security needs of small-medium businesses.
FEATURES
128 access levels, 255 holidays, 127 time zones
Card reader formats: 128 Wiegand format support
Dedicated power fail alarm and tamper alarm
Real-time clock with support for geographic time zones and leap years
Embedded web server to configure network attributes
RS485 multi-drop connection for downstream panels
2 onboard I/O readers, expandable to 62 readers per gateway controller
Large local controller database for real-time access control decisions
Operating temperature range: 0 to 50° C
Specifications
Ordering Info
Resources
Specifications
Database:
Cardholder capacity: 100,000
Transaction storage: 100,000
Flash programming for firmware
Revision updates
Access level: 128
Holidays: 255
Time zone: 127
Card reader formats: 128 Wiegand
Format support
Credential facility codes: 8
Dedicated tamper alarm
Dedicated power fail alarm
Real time clock:
- Geographic time zone support
- Leap year support
Embedded web server to configure
network attributes
Environment:
Temperature: 0 to 50° C operational; -55 to 85° C storage
Humidity: 0 to 85% RHNC
Communication:
Ethernet port connected to TCP/IP network as master panel
RS485 multi-drop connection for downstream panels
Onboard I/O:
2 Readers , expandable to 62 readers per gateway controller
8 Supervised inputs
4 Relay outputs
Operational Functionality::
Operational modes:
- Card only
- Card and PIN
Maximum site codes: 8 digit
Anti-Passback support:
- Local
- Global
- Forgiveness
Interlocks: 256
Duress alarm
Dimensions:
Approvals:
Recommended Readers:
Smart Card Readers:
JT-MCR Mifare CSN Readers
HON-MSR Mifare Sector Readers
OmniClass Readers
HID iClass Readers
Proximity Readers:
OmniProx Readers HID Proximity
Biometrics Readers:
HON-FIN4000 Fingerprint Bioscript
Ordering Info
| Model No. | PRO3000 |
| --- | --- |
| PRO3000 | PRO3000 2-door intelligent Controller |
Resources
Documentation
Size
Release Date
File Type
Download
Datasheet
2971 KB
20.04.2020
.pdf
Download
| Model No. | PRO3000 |
| --- | --- |
| PRO3000 | PRO3000 2-door intelligent Controller |
Documentation
Size
Release Date
File Type
Download
Datasheet
789.52 KB
22.03.2021
pdf
Download