Environmental factors such as high CO2 levels, volatile organic compounds and particulate matter affect people's cognitive abilities. IQ% provides a numerical output correlating to the score you would get if you were to give an IQ test in your current environment.
How long to fully charge the battery right out of the box/initial charge?
How long does every subsequent charge take?
How long does the device run on a full charge/ what is the battery capacity?
After charging is completed, Normal mode: 14 hours, Sleep mode: 40hours. Battery capacity: 2600 mAh.
Why is one of the on-screen symbols blinking?
The levels of that pollutant may have reached elevated levels. Clicking on the symbol will provide a number readout and the arc light at the top will go red as a warning.
Can individualized alarm thresholds be set for the device?
Yes! Setting the menu can set the alarm. Thresholds for the device set as follows: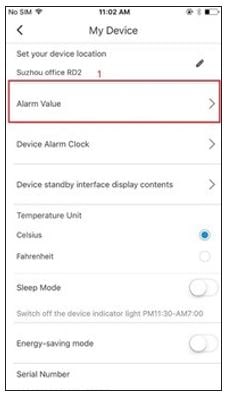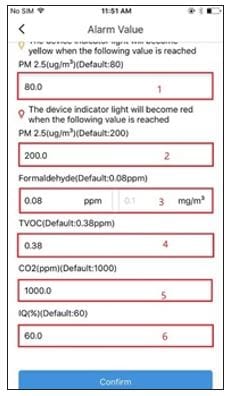 When and why do I calibrate the HAQ.
To combat drift, the HAQ CO2 sensor should be occasionally calibrated, which involves exposing it to a known gas source. It takes multiple readings, calculates an average, stores the difference in memory as an offset that is then automatically adjusted against subsequent readings.
What are the steps to recalibrate the device?
In the outdoor environment, switch to the CO2 interface, press and hold the middle position of the screen for 3 seconds. The calibration prompt appears. After 10-15 minutes when the calibration prompt disappears, the calibration is complete.
What is the optimum placement of the device?
Ideally, the device should be close to where you are but not near doors or windows. The latter might give different readings as the air might not have dissipated homogeneously through the room. For best results, use one device for 1000 – 1500 sq ft of air or for one room in a house.
Can I use this in my car?
As long as your battery is charged or as long as you have a connection for a USB cable, yes you can. An internet connection is required for data logging. You can use your phone as a hotspot or the device as a standalone monitor.
Can I use this outdoors in my balcony/ garden/ patio/ yard?
Yes, again, as long as you have a sufficiently charged battery and/or a socket. Note: outdoor readings will be remarkably different from indoor readings.